Commerical Driver License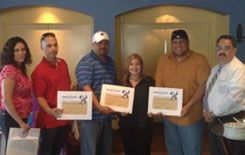 On August 9, 2013, Project GROW participants from the South Texas Workforce Solutions board area completed their Commercial Driver License training. The training began on May 28, 2013 and was provided by Laredo Community College with tuition and support services paid for by South Texas Workforce Solutions. 100% of the participants completing the training attained their CDL with endorsements. With their CDL these participants have now created career opportunities in the oilfield industry and/or trucking business.
Pictured (L-R): Cristi Mitchell(Workforce Case Manager), Ediberto Cruz, David Cabello, Lupita Canales (Workforce Board Chair), Alberto Ruvalcaba, Rogelio Trevino (Workforce Executive Director)
Not Pictured: Jorge Quilantan
Comments
Sign In to post a comment.