Cohort B - Medical Receptionist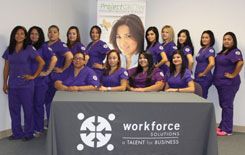 We would like to introduce and welcome Project GROW's second cohort in the state! This group is well on their way to earning a Medical Receptionist certificate, in conjunction to earning their General Educational Development (GED) certificate. Both of these trainings are being provided by South Texas College in McAllen, TX. Upon completion of their trainings on October 22nd, they will be receiving a Medical Receptionist certificate and they will be qualified for employment as Medical Receptionist and adept to continue their career pathway to earn a Medical Assistant certification.
"I first heard about Project GROW from a flyer I received when visiting my local Workforce Center. I decided to apply for the training when I found out that it was offering a GED, which I very much needed plus a Medical Receptionist Certificate which is a field I am interested in." -Ayssa Coronado

"At first I was hesitant in applying for the program. I was concerned about how I was going to pay for the gas. Workforce has been able to help me with a gas card which has enabled me to attend the training. I am now well on my way to earning my GED and Medical Receptionist Certificate." -Melinda Garza

"I always felt that I could not afford to attend college. Project GROW has made it possible for me by paying for my tuition, child care, books, scrubs and providing me with a gas allowance." -Norma Garza
"Half way thru the training I can say that I am more confident now than when I started the training. I am learning to use my skills and to expand them further. I realize now that I can move mountains if I put my mind to it." -Maria D. Lara

"At first I was afraid to start the program because I was worried that I would not be able to pass the GED exam. I had been told by many that it was an extremely hard exam to pass. But today I am very glad I applied for the training. I am now on the path to reaching my dream of becoming a speech pathologist, ensuring that my son has a better life and future and being the role model I want to be for him." -Viridiana Pimentel

"Through Project GROW I have been able to experience the feeling of returning to school. I have learned so much and am now determined to continue my education. Workforce has helped me attend the training by providing me with a gas allowance, paying for my uniform and buying my books." -Maria San Roman
Comments
Sign In to post a comment.