Cohort B - Emergency Care Attendant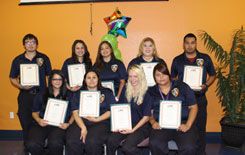 Workforce Solutions would like to congratulate Project GROW's first graduating class: Cohort B! This graduating class had a 92% completion rate and was presented with their Emergency Care Attendant and General Education Development certificate on July 19th. Both of these trainings were provided by South Texas College in McAllen, TX; in partnership with Workforce Solutions, which serves Hidalgo, Starr, and Willacy Counties. These students are now adeptly prepared for the National Registry of Emergency Medical Technicians exam.
Front Row: Monica Cortez, Doria Martinez, Kali Chaney, Kassandra Flores
Standing: Stephen Gonzalez, Bertha Vasquez, Irene Lucatero, Sandra Vasquez, Rodolfo Sanchez
Not Pictured: Jason Molina, Cruz Sifuentes, Juan Vera, Alma Reyna

"Project GROW will benefit every individual. It will help you in taking the first step in continuing your education and in assisting you in overcoming barriers that may have kept you from pursuing a career." -Berta Vasquez

"Project GROW is a great opportunity for anyone who wants a career as an EMT and needs their GED." -Daria Martinez

"An amazing project and very beneficial; it has made it easy for me to decide to continue my education towards becoming an Emergency Medical Technician." -Kali Chaney

"If someone was to ask me how to describe the project I would simply say, it is an opportunity that can better your future, create new career options and help you get started on the path to a successful life." -Monica Cortez

"This training was awesome. It helped me to get my GED, complete ECA training and most importantly it allowed me to make my family proud." -Rodolfo Sanchez

"I appreciate the opportunity that Project GROW provided me. It has helped me gain confidence in myself and I am now setting goals I would have never thought to set before my time in this training." -Sandra Vasquez

"Thanks to Project GROW I am now ready for a career with a steady income and not just a job." -Kassandra Flores

"A great opportunity no one should pass up. It was a great experience not only educationally but socially; I met great people while in training." -Stephen Gonzalez
Comments
Sign In to post a comment.